Every homeowner understands that pruning is a critical part of tree maintenance. Contrary to what most people think, it's not the same as trimming. Pruning is aimed at improving the tree's health, while trimming is merely for landscaping and beauty.
The national average cost of tree pruning services stands at $423, with most owners paying anywhere from $75 to $1,200.
Below, we break down the factors that affect these pruning costs and how to find the right expert for the job.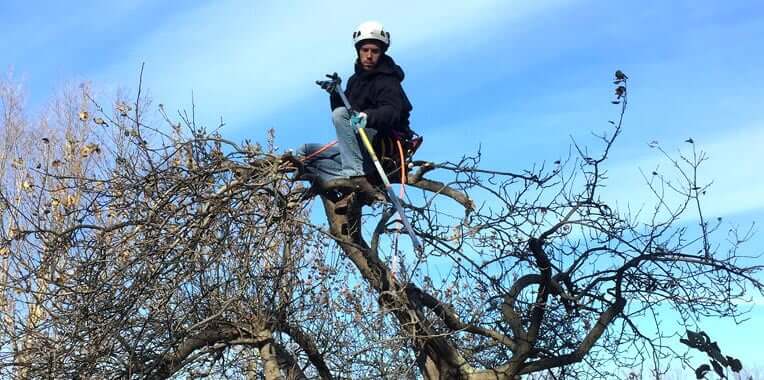 You can expect tree pruning costs will depend on factors including the size of the tree, its condition, location and accessibility, and the type of tree.
You'll spend anywhere from $75 to $400 to prune small trees (less than 5m high). Medium and large trees will demand extra labor and equipment since the tree branches involved are heavy. This may cost you between $350 – $650 and $700 – $1,200 respectively.
Most tree arborists will also charge you higher to prune trees located closer to power lines, buildings, or other utility lines.
Generally, the more dangerous the task is, the more expensive pruning becomes.
The health of the tree is also factored into the costs. Disease-stricken trees will often require more pruning than healthier trees and thus drive up the total costs.
| Type of tree | Average pruning cost |
| --- | --- |
| National Average | $423 |
| Small | $300 |
| Medium | $500 |
| Large | $800 |
Tree Pruning Cost by Tree Type
In cases where you have different types of trees, the pruning costs will also vary depending on the tree. This is because the trees come in different sizes in both height and thickness.
Here's how much you can expect to pay for different types of trees in the country.
| Type of Tree | Average Pruning Cost |
| --- | --- |
| Cherry Tree | $250 |
| Lemon Tree | $150 |
| Palm Tree | $350 |
| Apple Tree | $470 |
| Peach Tree | $525 |
| Pear Tree | $400 |
| Maple Tree | $700 |
| Oaktree | $650 |
Should I DIY or Hire a Pro?
In most cases, tree trimming and pruning seem like an easy task for any Do-It-Yourself enthusiast. After all, it saves you some extra cash.
However, this is a bad choice, and here's why. Tree work is typically a dangerous job. In fact, the US Census Bureau lists it as among the most dangerous jobs in the country.
Regardless of your DIY experience, you will easily injure yourself or damage your property without the right team and equipment.
And even if you do it right the first time, most DIY pruners tend to cause future damage to the trees. This then becomes a huge hazard for you and your family.
That's why you should always hire a professional tree expert.
Get Matched with a Tree Removal Expert in Your State
Do I Need an Arborist To Prune My Trees?
Yes! Owing to the dangers associated with tree pruning coupled with the tree's need for specialized care, you'll need a certified arborist to handle the job properly.
Good arborists understand that each tree is different when it comes to pruning. They can easily identify the weak, rotting, or diseased branches even when they look okay.
As such, they are able to curate the right pruning process that will ensure the trees remain healthy and strong.
Expert arborists also have the right safety tools and working equipment to ensure they are protected and avoid endangering your property. They may also have insurance that covers them in the unfortunate event of an accident or injury.
Hiring a Tree Pruning Expert Near Me
Once you've decided to hire a tree pruning expert, your biggest challenge will be determining the best team for the job. It's important to know that not every 'pruning expert' is as good as they claim.
That's why you need to be smart in your hiring process. Here are some tips to help separate qualified arborists from the inexperienced.
Tip 1: Look for Certifications
Licensing and certifications prove that an arborist has gone through proper training to handle the job. Anyone who can't show you their certificates and license should be a huge red flag and deal-breaker.
Tip 2: Verify Insurance Certificates
If you don't look at anything else, ensure that you ask and verify the contractor's insurance certificates. There are two main insurance covers you should ask for; General liability cover and worker's compensation insurance.
General Liability insurance ensures that any property damages that may happen in your home are covered. The worker's compensation insurance protects you from any damages if one of the experts gets injured while working in your home.
As a rule, ask the expert for copies of the certificates and call their insurer to confirm that their cover is still active.
Tip 3: Get a Written Estimate
Before engaging in the details with the tree expert, ask them to provide a detailed estimate of their charges.
Having at least three estimates from different experts will help you get an idea of the pricing for each process. You can then choose an expert that works within your budget.
Nonetheless, avoid any expert charging 'too' low for a service compared to the average price. Their quote might be a marketing gimmick to attract customers then charge them higher with hidden costs.
Tip 4: Look in the Right Places
To find the right arborist near you, you have to refine your search process. The best place to start is from word of mouth referrals. Ask any of your friends or family who has recently completed a tree job for recommendations.
You can also look at the online reviews and ratings of tree experts from trusted review websites like Angie's List.
Our free service at GoTreeQuotes.com is also an excellent alternative to receive quotes from qualified arborists near you. All you'll have to do is give us the details of your project, and we'll send them to the top voted contractors near you for quoting! It's easy, saves you time and money!
Regardless of what a tree service company tells you, never take their word for it. Instead, do your research. Find out how long they've been in business; look at their online reviews and testimonials.
If possible, ask them for some references and their experience with the tree expert. This way, you'll have a better feel of how the arborist works and their quality.
Tip 6: Ask for a Contract
The last step before giving the go-ahead to start the project should be asking for a work contract. The contract should contain all your agreements with the tree expert covering payments, timelines, and their working process. You can also include tree clean-up service and disposal agreements.
This contract will help resolve any disputes that may arise and also helps you keep the expert accountable.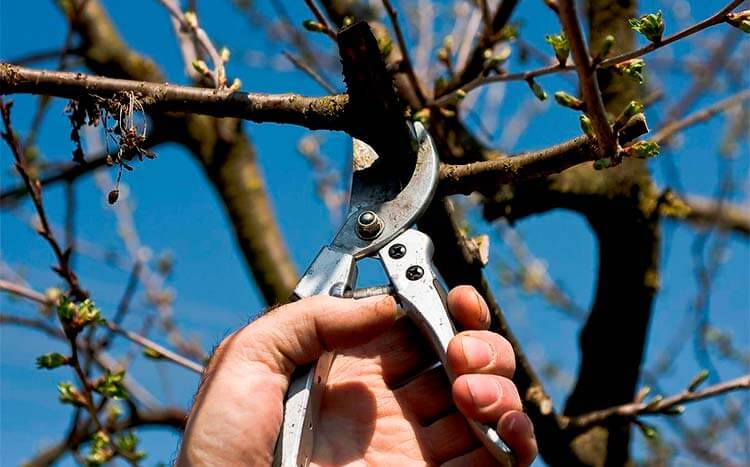 Questions To Ask Pruning Service
Most contractors are usually happy to answer any questions or concerns you may have about their operations. Here are some questions that may help you gauge if they're a good fit for your job.
How Long Have You Been in the Business?
How long a company has been in operation gives you an idea of their experience. You don't want to have a team of inexperienced arborists causing more damage to your trees.
Make sure that the company has been in business for at least 10 years to be confident that they know what they're doing.
Do You Have Full-Time Arborists?
Confirm that the pruning company doesn't subcontract the jobs. They must have at least two certified full-time arborists and should be registered with at least one trusted professional website like the International Society of Arboriculture (ISA).
Beware, some companies trick tree owners by hiring part-time experts who may not always deliver quality services. Avoid such companies.
How Do You Go About the Pruning Process?
Even if you don't know a lot about pruning trees, you want to see that the expert knows that different trees require different pruning procedures. How you prune a small, young tree should be different from that of a medium and large tree.
Agreeing on the timeline for the entire process is always crucial. Ensure that the company first inspects the trees before giving you their estimate. An agreed timeframe will keep them on their toes to complete the job without wasting time.
What Time Is the Best To Prune a Tree?
Late fall to early spring is usually the best time for tree pruning because the trees are dormant. During this stage, they are less prone to insect or disease infestations and generally heal faster.
The ground is also harder, making it easier for the arborist to access the trees. Nevertheless, the tree size, type, and health may affect the right time to prune it.
Therefore, talk to your local arborist to find out the best time for your trees.
Get Matched with a Tree Removal Expert in Your State
How Much Does It Cost To Prune a Large Tree?
The average cost of pruning large trees mainly depends on the type of tree and its condition. In most cases, you can pay as much as $600 – $1,000 for trees 3 – 5 stories high.
Extra-large trees, 6 stories or higher, may cost anywhere from $900 – $1,800 depending on the work needed.
What Is the Difference Between Tree Trimming and Pruning?
While the differences between tree trimming and pruning can be subtle, they two refer to different services.
Tree trimming refers to the cutting and shaping of a tree, shrub, or hedge to meet the required landscape design. It's merely performed to remove any overgrown branches and enhance appeal.
Tree pruning, on the other hand, refers to the selective cutting of infected, diseased, or dead branches and limbs of a tree to protect it from infections.
Pruning may also cover the removal of branches posing danger to you, like branches extending to powerlines or weak limbs that can fall.
Is It Cheaper To Prune a Tree or Cut It Down?
Will Homeowner's Insurance Cover Tree Pruning?
In most cases, no. Most homeowners' insurance won't cover tree pruning, trimming, or any other maintenance activity. However, the insurance may cover the damages caused and tree removal costs if the tree falls due to causes like a storm.